The last regular meeting of the Business Council in the Waste Management sector was held in the town of Kardzhali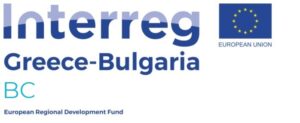 On 12.04.2023 from 16:00 in the city of Kardzhali, the last regular meeting of the Business Council was held in the Waste Management sector in the border regions of Blagoevgrad, Haskovo, Kardzhali and Smolyan, and the activity is carried out under the project "Business Council - BC 6275" financed by the INTERREG V program /A GREECE-BULGARIA 2014-2020, Subsidy contract No. B6.3a.18/13.04.2021.
The meeting was attended by six representatives from the Waste Management sector from the border regions of Haskovo, Kardjali, Blagoevgrad and Smolyan. The hall of the association "Europe in dialogue", town of Kardzhali, was engaged. It was technically secured, being equipped with: multimedia, laptop computer, printer, microphone/s and sound system, as well as information boards, banner and presentation materials, according to the requirements of the Interreg V/A Greece-Bulgaria Program Communication and Publicity Guide 2014-2020. In addition, disinfectants were provided, as well as water, coffee, tea to ensure the coffee break of the event.
The moderator of the event welcomed everyone present, giving a few minutes to introduce the new members, then drew attention to the Rules of Procedure of the Business Council.
Those present at the meeting complained to the project management team about the unrealized project for a landfill for domestic waste in the territory of the region. Kurdzhali. Unfortunately, the project failed years ago and the results that are currently available are tons of unregulated waste.
Those present at the meeting shared that they have repeatedly reported the problem, but the results have been zero. The concern of people living in the area stems from the fact that there is a lot of agricultural land in the area of ​​the unregulated dump. The river Varbitsa passes nearby, and together with the moisture, everything seeps into the soil, and from there into the river.
In connection with the above, the members of the council expressed their fears that in this way the bio balance in the area is threatened, that the soil and water are polluted, and that the agricultural products grown in the area are dangerous for people's health.
Attendees sought the assistance of the project management team to organize a round table to discuss options for solving the problem and reducing the harmful impact that unregulated dumping has on the surrounding nature.